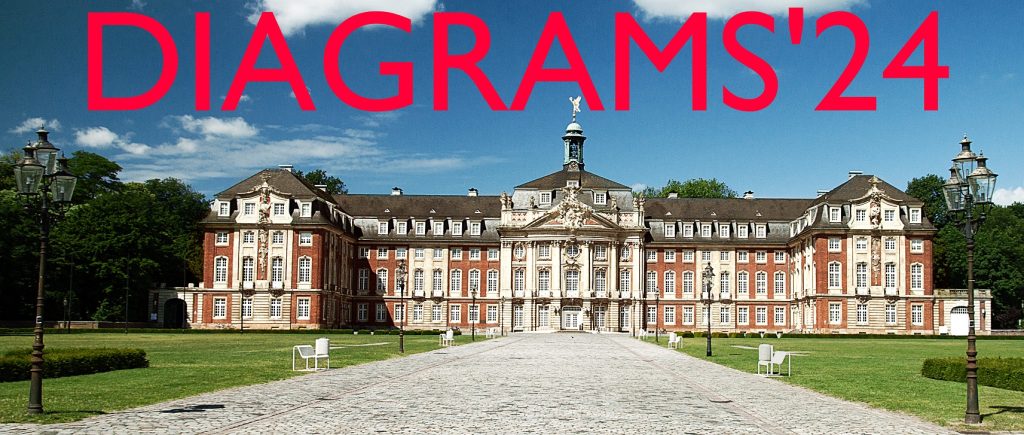 DIAGRAMS'24 will be held 27 September – 1 October 2024 at the Fürstbischöfliches Schloss Münster, Westfälische Wilhelms-Universität, Münster, Germany.
To get some impressions of the castle and the city, take a look via the following Link.
The Westfälische Wilhelms-Universität Münster (WWU) is one of the largest German universities, with around 44,000 students. Münster is a cosy and historically significant university town in the north-western part of Germany. Together with other large cities in the border area between Germany and the Netherlands, it forms the international Euroregio region and is considered the cultural centre of Westphalia.
Münster has its own international airport (FMO) and can also be reached directly by train from Dortmund (DTM), Paderborn (PAD) or Düsseldorf (DUS) airports within about 1 hour. From Bremen (BRE) and Cologne/Bonn (CGN) airports it is about 1½ hours by train and from Frankfurt (FRA), Hamburg (HAM) or Amsterdam Schiphol (AMS) airports about 3 hours. From Münster central station to the Fürstbischöfliches Schloss Münster it takes 10-15 minutes by bus and about 20-25 minutes on foot.
Detailed information on hotels, accomodations etc. can be found via this link.